Northern NSW Local Health District - live the life and jumpstart your nursing and midwifery career.
Traditionally defined by Clarence, Richmond and Tweed Rivers, Northern NSW Local Health District (NNSWLHD) brings together 300,000 residents residing in an area of 20,732 square kilometres. 
The Bundjalung, Githabul, Gumbaynggirr, and Yaegl Nations are traditional custodians of the land covered by the District.
Our footprint extends from Tweed Heads in the north to Tabulam and Urbenville in the west and to Nymboida and Grafton in the south. It's all about the lifestyle!
Our region is blessed with beautiful, world-renowned natural resources, stunning beaches and lush hinterland, the climate is astounding, and our history of strong community connectivity makes us unique and loved.
It's all about your nursing/midwifery career!
Our health district delivers a broad range of health services in state-of-the-art facilities, with access to general and specialist services. Staff are connected to best-practice patient care throughout Australia thanks to a growing network of training opportunities and relationships with local and metropolitan tertiary education providers.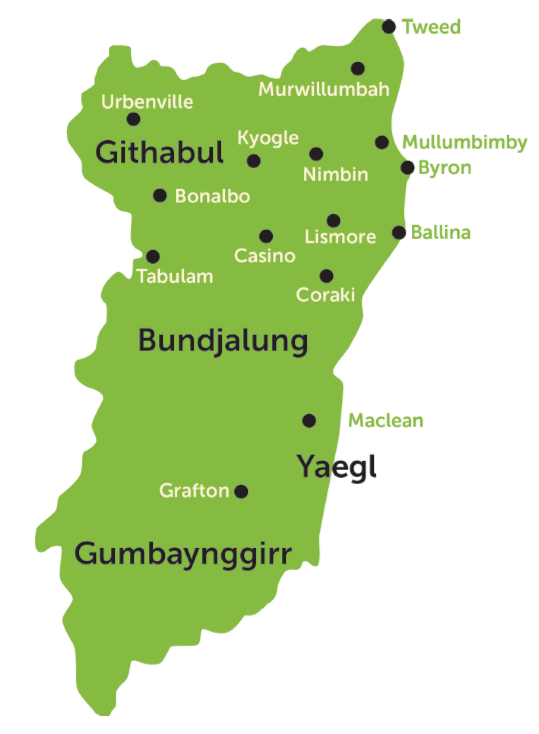 About Northern NSW Local Health District GradStart Program

GradStart is the recruitment process for graduate nurses and midwives to kickstart their careers in our Northern NSW Health facilities. It's coordinated by the Ministry of Health's Nursing and Midwifery Office in collaboration with Our Nursing and Midwifery Service (OurNAMs).

Newly qualified nurses' and midwives are integral to our nursing and midwifery workforce. The Northern NSW GradStart program is designed to provide a structured and coordinated approach to clinical practice development, promote a climate conducive to workplace learning and enhance collaboration and communication across the organisation.
GradStart Eligibility

You can apply to 2024 GradStart if you:

are completing your nursing or midwifery degree between 1 June 2023 and 31 May 2024*
will meet all the requirements to become a registered nurse or registered midwife with the Nursing and Midwifery Board of Australia (NMBA) before the agreed date that you'll start work**
hold Australian citizenship or hold a visa that allows ongoing full-time employment in Australia.

* completion means final result received that leads to initial registration as a Registered Nurse (RN) or Registered Midwife (RM)

** You can start your application for registration with the NMBA up to 6 weeks before completing your studies.

To be eligible for a Northern NSW GradStart Program, students MUST apply through the NSW Ministry of Health website: www.health.nsw.gov.au/nursing
General information

Accommodation

Some of our sites can offer short-term accommodation to help you move to the region and there are a variety of accommodation options available throughout Northern NSW in both the regional centres and the beautiful surrounding villages and towns along the coast and hinterlands. For those working in the North of the district these options extend into neighbouring Queensland.

Getting around the District

Please be aware there is limited public transport options in our region particularly in our more rural and remote locations. A driver's licence and own transport is highly recommended.

Social Activities

This area is renowned for its natural beauty; from the lush green mountains to the spectacular coastline that boasts some of the best surf beaches on the east coast of Australia. You will be spoilt for choice with the diverse range of social activities, restaurants, theatres and many outdoor activities that are available throughout the Northern Rivers Region, including the nearby Gold Coast and Brisbane.

Northern NSW is serviced by a number of airports including Ballina Byron, Lismore and Casino. The Gold Coast Airport is just over the Queensland border and services the majority of our major cities. International flights also connect the Gold Coast with New Zealand and various Asian destinations with a link to London. For more information, visit the listed airport websites.
Northern NSW LHD GradStart Nursing

Northern NSW LHD offers permanent part-time and full-time positions. Most graduates will be required to work a 7-day rotating roster, including morning, evening and night shifts which is dependent on the ward or unit you are allocated to. Depending on the hospital program, graduates may be offered single placements in an area or multiple rotations. 

Northern NSW LHD GradStart Programs for Registered Nurses commence in February, March and May 2024. All graduates will have the opportunity to discuss their preferred rotations prior to allocation. 

Registered Nurse GradStart programs are available in:

 
Clarence: Grafton Base Hospital and Maclean District Hospital 
Tweed/Byron: Byron Central Hospital, Murwillumbah District Hospital and Tweed Valley Hospital 
Richmond: Ballina District Hospital, Lismore Base Hospital, Casino Memorial Hospital
Multi-Purpose Sites (MPS): Nimbin, Bonalbo, Kyogle and Urbenville

Northern NSW LHD Registered Nurse GradStart Program

The program includes: 

Online corporate orientation
Clinical and workplace orientation
paid educational study days
some sites offer clinical rotations across a wide range of specialties to support career development and future specialisation.

Our Graduate Nurses are supported to:

harness and support the ongoing individual learning and development needs of transition to practice nurses 
foster self-directed and lifelong learning skills
develop and maintain a professional portfolio to demonstrate attainment of clinical competencies and continuous professional development. 

Support during the program:

All graduates should be allocated a preceptor to support them throughout the first few months.
Clinical nurse educators and a team of dedicated nursing staff who will provide clinical leadership and mentoring.
An environment that is supportive, responsive to individual learner needs and facilitates the consolidation of knowledge, skills and attitudes of the transitional nurse.

 
Midwifery GradStart

 

 

 

 

 

 

Midwifery GradStart positions are being offered in the following locations for 2024:

Grafton Base Hosptial 
Lismore Base Hospital
The Tweed Hospital, this includes our newly built Tweed Valley Hospital

Rotations include:

Antenatal Clinic
Birth Unit
Postnatal Ward with opportunity for Midwifery in the Home
Special Care Nursery

We offer graduate temporary full-time positions, temporary for 12 months. Graduates work a 7-day rotating roster, including the requirement to work morning, evening and night shifts.

Orientation and Educational Support

All graduate midwives will attend a three-day orientation to the Northern NSW Local Health District. 

You will receive an additional two days orientation to the Maternity Service – Women's Care Unit where you will meet the amazing team of midwives and become familiar with where you will be working for the next 12 months. 

During your orientation period you will be given a plan for the 12 months. You will have some supernumerary time in each new area to become familiar with the location as well as be supervised in the clinical practice expectations. 

As part of our Mentoring in Midwifery program, you will be allocated a mentor. They may not necessarily be working beside you but will be someone you can meet with to reflect on your practices for those celebrations as well as for learning opportunities. 

There will be opportunities to attend a number graduate study days (4 in total) throughout the year. The study days will include the mandatory Perinatal Safety Education required for foetal and maternal safety. There may be the opportunity for additional study days depending on areas of interest and skill development. 

You can also request to attend other education sessions offered at other Maternity facilities across the District. We offer many of these sessions virtually to enable you to attend sessions without travelling. 

Your on-going clinical education and support is provided by the whole Maternity team including the midwives, Clinical Midwifery Educator, Clinical Midwifery Specialists, Clinical Midwifery Consultants and Obstetricians. As a team, we are committed to providing you with the best transition possible into the Midwifery profession. 

After your 12-month contract we encourage you to apply for available permanent positions to continue your experience with our NNSWLHD Maternity Service.
Northern NSW LHD Mental Health GradStart Program

Mental Health Nursing Practice GradStart program is offered at:

The Tweed Hospital
Byron Central Hospital
Lismore Base Hospital

The program commences in February 2024 and offers permanent part-time or full-time positions. GradStart participants will have an opportunity to rotate through a number of differing clinical settings, including Acute Inpatient, Sub Acute, Child and Adolescent and Community Mental Health.

All Graduates are required to work a 7-day rotating roster, including morning, evening and night shifts.

The mental health GradStart Program is delivered in collaboration with Southern Cross University providing structured learning and group activities on key mental health topics.

Throughout the program participants are assessed on their learning in various ways including written assignments and oral presentations to peers. In addition to experiential and structured learning, participants will be supervised and mentored throughout the program. A certificate of completion will be issued to participants on satisfactory completion of the program content. The program aims to prepare participants to undertake higher degree study in the area of mental health such as Graduate Certificate or Masters.
Contact