Northern NSW Local Health District (NNSWLHD) is working towards being the leading regional local health district in Australia.
A healthy community through quality care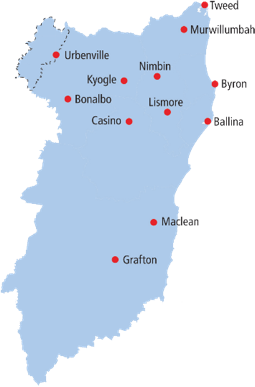 NNSWLHD provides a diverse range of public healthcare to over 300,000 residents across the district through 12 hospitals and multi-purpose services, 21 community health centres and other facilities.
NNSWLHD covers a large area in north eastern NSW extending from Tweed Heads in the north to Tabulam and Urbenville in the west and to Nymboida and Grafton in the south, an area of 20,732 square kilometres.
In 2011 the estimated population within NNSWLHD was 288,241, and is projected to increase by an estimated 16.3% by 2031.The population of persons aged 65 years and older is expected to increase by approximately 71% in the same period.
People of Aboriginal and Torres Strait Islander heritage make up 5.2 per cent of the population in Northern NSW compared to 3.4 per cent for all NSW*.
The District delivers a broad range of health services in state-of-the-art facilities, with access to general and specialist services. Staff are connected to best-practice medical care throughout Australia thanks to a growing network of training opportunities and relationships with local and metropolitan tertiary education providers.
NNSWLHD is undertaking major capital projects at several facilities, which will support staff and clinicians in providing excellent care to the District's communities well into the future. Continued developments in Information Communication Technologies and Integrated Care have also resulted in improved patient outcomes and hospital services.
Our Values Statement
Read Our Values Statement
Our residents
The Bundjalung, Githabul, Gumbaynggirr, and Yaegl Nations are traditional custodians of the land covered by the District.
Approximately 300,000 residents live within the Northern NSW Local Health District. People of Aboriginal and Torres Strait Islander heritage make up 4.5 per cent of the population, compared to 2.9 per cent for all NSW. The District generally has fewer culturally and linguistically diverse residents compared with NSW as a whole.
Culturally and linguistically diverse residents mostly live in the Byron and Tweed Local Government Areas.
In 2017-18, the proportion of residents aged 65 years or older continued to increase. These residents make use of more acute health services due to chronic and complex conditions, dementia and fractures as a result of falls.
The population of persons aged 65 years and older in NNSWLHD is projected to increase by an estimated 71% between 2011 and 2031, and for people aged 80 years and older by approximately 76%.
More population and health data is available on our Public Health page.
Our staff
NNSWLHD values the essential role our staff play in delivering innovative ways to respond to the health needs of our patients and clients. We have over 5,500 people working in our hospitals and health services across the District.
NNSWLHD is committed to offering diverse career pathways, professional and personal development and help with further study and education. Work environments are flexible and supportive and encourage opportunities for staff to start or build a career, or re-enter the workforce.
Roles within NNSWLHD are challenging, inspiring and rewarding. These include Medical, Nursing, Allied Health, Corporate Services, Hospital Assistants and Administration, Oral Health Practitioners and Support Workers and Scientific and Technical Clinical Support Staff among many others.
To find out more about working for NNSWLHD and to see the latest job vacancies, click here.
Our Board
The Northern NSW Local Health District (NNSWLHD) has been set-up in accordance with the National Health and Hospital Agreement.
For more information on our Board click here.
Our partners
The Northern NSW Local Health District works in partnership with the community, its consumers and other organisations to plan, deliver and evaluate healthcare for the Northern NSW region. It's through strong partnerships that patients experience safe, quality health care, improved outcomes and receive safe timely treatment.
The LHD has long-standing partnerships with organisations such as the University Centre for Rural Health, North Coast Primary Health Network, Aboriginal Medical Services, Family and Community Services, Ambulance NSW, tertiary and non-government organisations.
These partnerships provide opportunities for new approaches to integrated service delivery, training opportunities, funding and governance to improve health outcomes for the communities in Northern NSW.
*Statistics sourced from the June 2021 Australian Census.